Learning how to grow your own food can be tricky, especially if you're in an apartment or a rental house (or even just a tiny house that you own). Sometimes it can feel like you need a large outdoor space to get started, but today we're covering just the opposite.
Growing your own food does not require a lot of space or expensive equipment. Check out 4 ways to get started growing your own food with limited space and a small budget today!
Growing Microgreens
One of the easiest ways to start growing food that you can eat pretty much right away is to grow your own microgreens. We love this option for beginners for a few reasons. First, its very straightforward and easy to grow. You can buy a microgreens kit that will come with everything you need already included. Essentially all you have to do is add water to the kit and your microgreens will flourish.
The second reason growing microgreens is a great way for beginners to get started is that the time needed is super short. A full cycle of growing microgreens can be as short as 7 days. That means that from the time you plant your microgreen seeds, you only have to wait 1 week before harvesting and eating. This is instant gratification which is helpful for new gardeners to get them started without any discouragement.
A third reason we love growing microgreens is that they're a nutritional powerhouse. These tiny greens have a lot of the nutrients and vitamins that they're fully grown vegetable forms do, but compacted down into one super charged micro-form. You can add these microgreens to a smoothie, on a sandwich, garnish a soup, and more! For more ideas on how to use microgreens, check out this article.
If you're interested in a microgreens kit, we love this one from Hamama. It comes with everything you need and they make it super simple to grow and harvest microgreens.
Growing Sprouts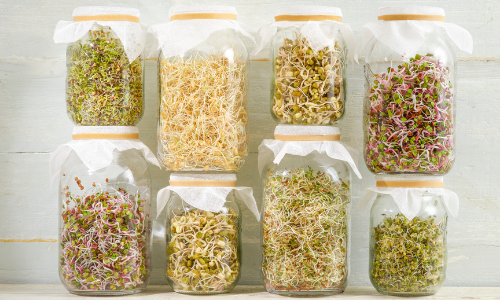 Another similar method to microgreens to start growing your own food with limited space and budget is to grow sprouts. You can do this very easily, and with a lot of equipment that you likely already have at home. For a full guide on how to grow sprouts, check out this easy tutorial.
Similar to microgreens, sprouts are full of vitamins and nutrients that are great to add into your diet. Sprouts also have a short cycle time, with many varieties being fully grown in less than a week! With sprouts, you're essentially harvesting right after the seed sprouts (hence the name), and consuming before they reach the full microgreen status.
Their uses are similar to microgreens (sandwiches, soups, we've even topped sushi with them!). The only difference is we find that most sprouts provide a little more crunch than some varieties of microgreens. They're both great though, and either option is a good starting point for beginners to grow their own food.
Start Your Own Herb Garden
A slightly more advanced method (although still beginner friendly) is to begin with an herb garden. Many herbs are pretty resilient, and can flourish even with less than ideal conditions. You can keep an herb garden indoors or out, although some form of natural light is preferable. However, in a pinch, you can always use a grow light.
An herb garden is very satisfying for new gardeners, especially those that like to cook (which most people growing their own food like to do). Fresh herbs can be a gamechanger for home cooked dishes. Always having them on hand fresh from the garden can kick your cooking up a notch. It can also save money in the long run because you'll avoid buying fresh herbs from the store that go bad after a week.
For a full guide on growing herbs in a small space, we encourage you to check out this article, or check out our free e-book: Learning how to Grow Your Own Herbs.