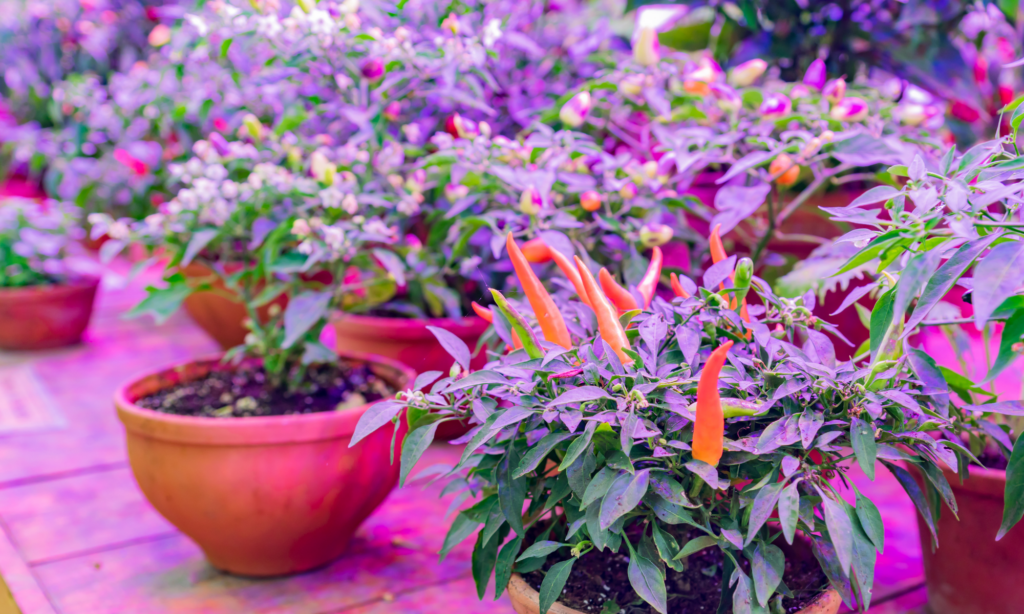 Grow lights are great for spaces with limited natural light. If you are planting in a space with limited windows, or even an outdoor patio garden that is mostly shaded, you can help supplement your plant's natural light with grow lights for a few hours a day.
Want more information on grow lights? Check out our latest post featuring our number one frequently asked question: How long Should Grow Lights be Left on?
Considerations
When looking for a grow light you'll want to consider a few different factors. The main things to look for are the spectrum settings offered, dimmer settings, and automatic timer settings. All of the grow lights recommended in this article check these boxes.
Spectrum Settings for Grow Lights
Grow lights can actually emit different colors, and these colors have different benefits for your plants! A blue light setting on grow lights will help encourage plant growth. Red, on the other hand, will help a plant flower.
Depending on what you're growing, you can use a combination of both red and blue light. Often, grow lights will have a combination setting that will emit both blue and red lights.
Automatic Timer Settings
One of the conveniences of many grow lights is that they have automatic timer settings. This means you can set your grow light to automatically shift on for 12 hours, then off for 12 hours. Many offer additional time settings such as 3, 6, or 9 hours of light too before shutting off.
This feature will make your lights easy to manage and keep the plant cycle on track.
Curious about how long you should leave grow lights on? Check out our latest blog post!
Dimmer Settings
Depending on the type of plant you're planting, you may want grow lights that have dimmer settings. A dimmer setting allows you to have more control over the amount of light your plant is exposed to. Some plants may fair better under a dimmer setting than full brightness.
Best Option for the Tiniest Space: Ledy LED Light
For those needing a super compact grow light, we recommend this small, flexible LED light. It only has two bulb strips, but is able to pack a punch for its size. This LED light has 8 dimmer settings, both red and blue lights, and automatic timer settings for 3, 9, and 12 hour cycles of light per day.
If you need a slightly larger option, Ezorka's grow light with 4 LED strips is a good option. This light will provide light to a larger area of plants while still offering roughly the same features and settings. This light has 9 dimmer settings, both red and blue light, and automatic timer settings of 3, 6, and 12 hour light cycles.
If you have a plant that is taller, you may need a grow light that can accommodate its height (especially if you don't have a spot to clip a small light on to). This grow light has an adjustable stand that can expand up to 60 inches in height, making it perfect for taller plants. At its smallest this plant light is 20 inches.
This grow light also has both red and blue light, 10 brightness levels, and automatic timer cycles of 4, 8, and 12 hours.