Blooming Tables, or other similar models, are a popular home décor trend. You may have seen either Blooming Tables or a similar DIY version on social media.
They're an easy way to incorporate plants into your home, and especially convenient if you're trying to garden in a small space.
In this article we're going to cover how Blooming Tables work, what the pro's and con's are, and our overall review of the product.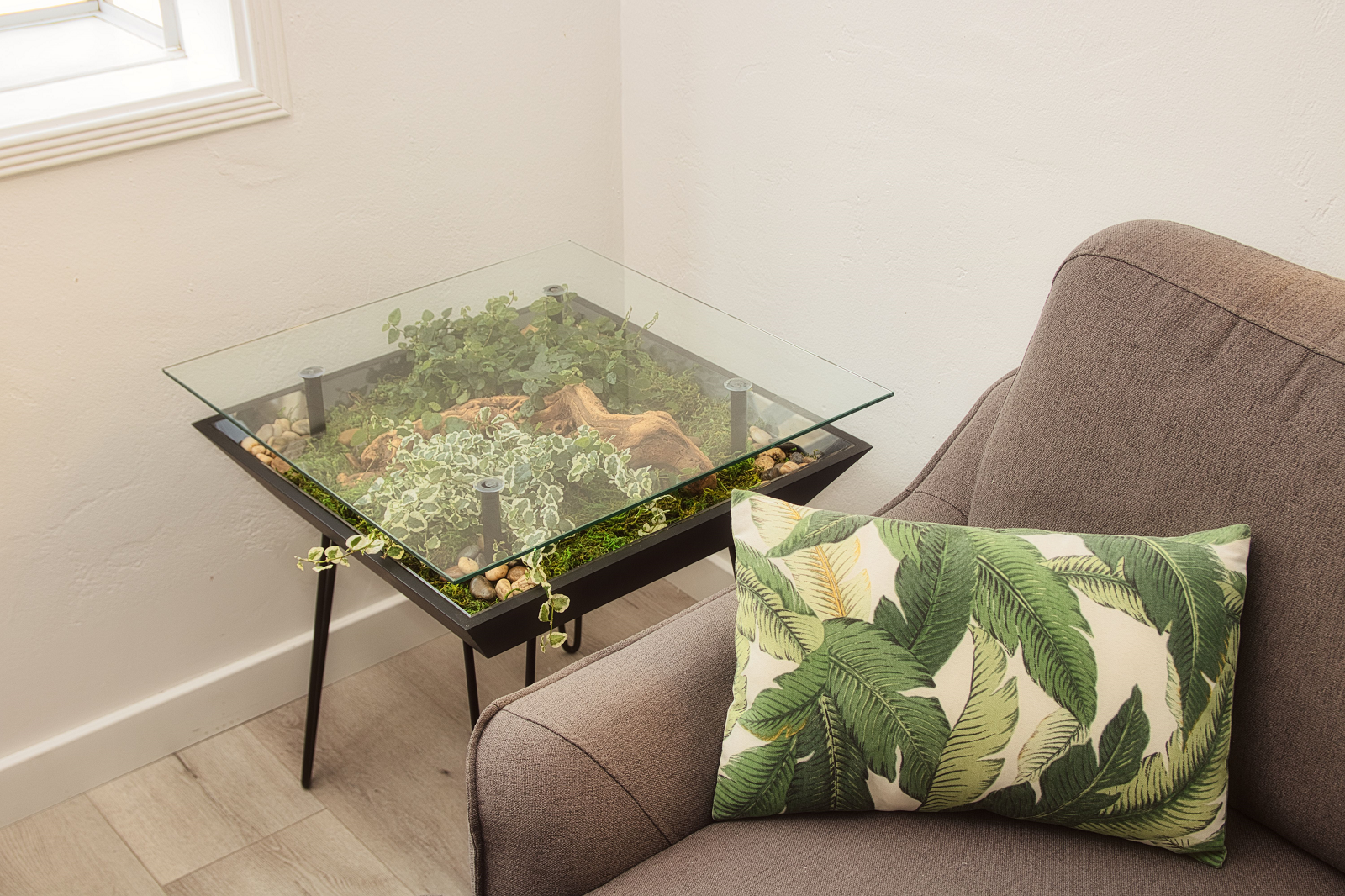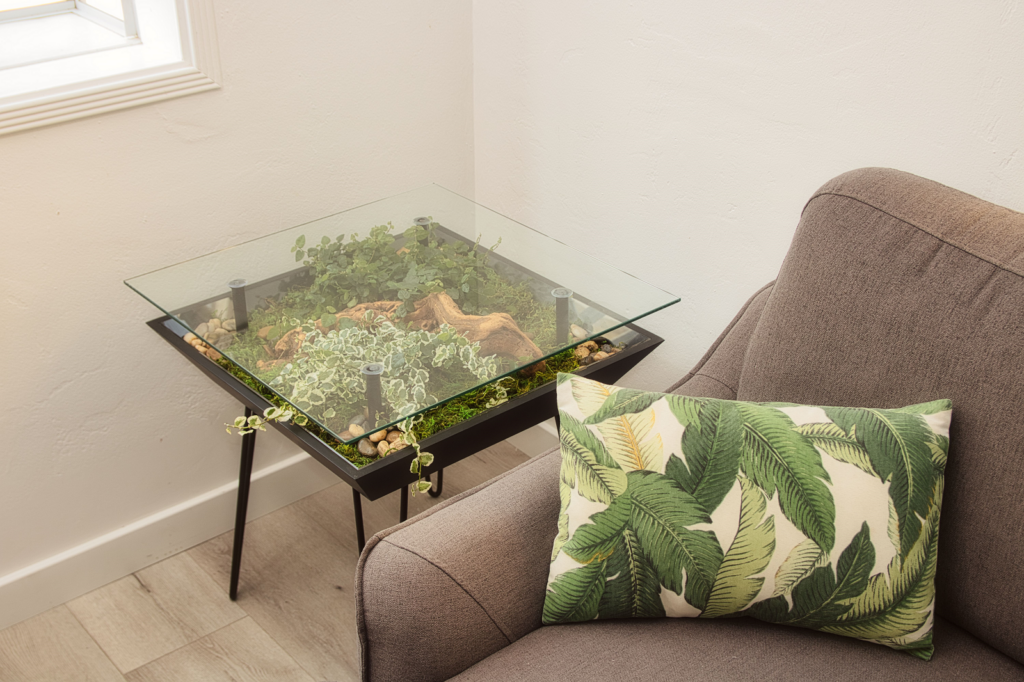 How it Works
Blooming Tables are tables that have space for a small garden underneath a glass top.
Essentially, you can plant any plant that will fit in the space underneath the glass.
Options
Blooming tables come in 4 options: coffee tables, desks, entry tables, and end tables.
Additionally, each option comes in two colors, black and white. This allows for each person to pick the color that best suits your home décor.
Cost
Depending on what model you want, prices range from $229 for a side table to $349 for a desk or coffee table. This is pricey when compared to creating a garden in traditional planters, however comparing it to prices for typical furniture pieces its very competitive.
Features
The glass top is attached with suction cups to the table, which makes it easy to remove as needed to water your plants.
The planter portion is lined with an acrylic tub to ensure its leak proof. Additionally, there's a drain valve that allows you to drain any excess water from the table to prevent root rot.
Pro's
Lets talk about some of the things we love about Blooming Tables.
Striking Design
The design on these tables is top notch. Especially after you add your plants of choice Blooming Tables add a lot to a room by incorporating greenery and a sleek design.
Each item from their collection is a sleek modern design that can compliment a variety of styles of décor. Each style within their collection comes in black and white to allow each person to coordinate with their home.
Useful and Functional
Aside from the aesthetic of Blooming Tables, they can be useful too.
The plants you choose can purify the air and produce oxygen for your home. You can also choose to grow microgreens, which would give you produce that you can add to your salads, soups, smoothies, and more.
We love the option of growing microgreens in a blooming table because of the combination of design and function.
Especially for those trying to grow their own food in a small space, this is a great option to create a small garden in a space that would normally be unused.
Customer Service
Another pro we want to mention is that Blooming Tables has a great customer service team. Multiple reviewers of the product mentioned that any issues with delivery or return inquiries were addressed quickly and effectively by the Blooming Table team.
Their return policy allows you to return your blooming table for any reason within 30 days of the purchase date, with exceptions made to extend that window for holiday periods.
Cons
Lets talk about a few cons of Blooming Tables.
Need Sufficient Light
One of the primary factors for this table to work well is ensuring that your plants get enough light.
Given that your plants will be under a UV resistant glass top, you'll want to ensure that your table has enough of a light source for your plants to grow effectively.
For some plants, that might just mean that you have a room that receives natural indirect light.
However, depending on what plant you intend to grow, you may want to find a specific spot with the most natural light in your home.
Unless you plan on using faux plants, we would advise against placing your Blooming Table in a room that does not have any source of natural light.
Sell Out Quickly
Another slight drawback is that these blooming tables often sell out quickly.
You can preorder your items, however something to keep in mind is that it could take some time to deliver your table based on if the item is on backorder or not.
Growing Plants in a Blooming Table
We've covered this briefly in some of the earlier sections, but we wanted to quickly talk about some of the more popular choices for plants to grow in your blooming table.
Succulents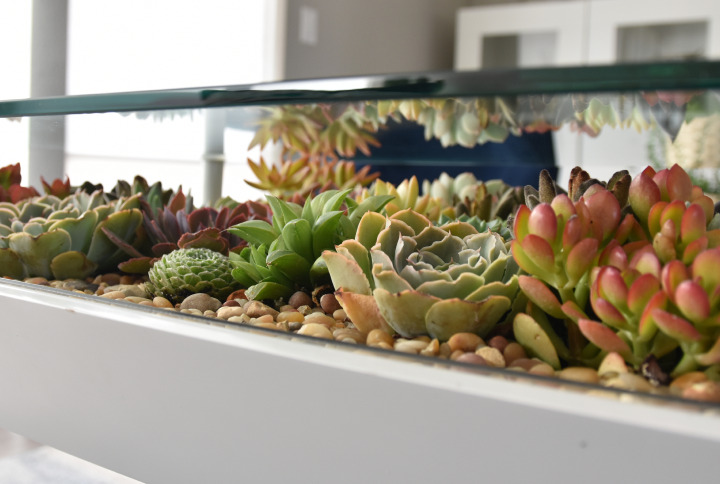 One of the most common choices for Blooming Tables is to plant succulents.
This is an awesome option because of how low maintenance succulents can be.
Succulents are also available in a variety of colors, textures, and shapes which can create an interesting setting for your table.
Microgreens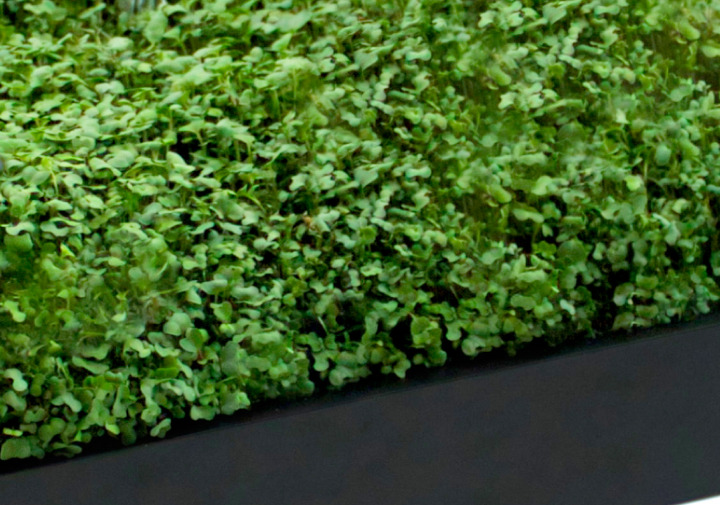 One of our favorite ways to use a Blooming Table is to grow microgreens in them. Microgreens are great ways to add nutrition to your diet, you can add them to smoothies, soups, sandwiches, and more.
Additionally, you can grow microgreens in a variety of colors, making them functional and beautiful.
Cacti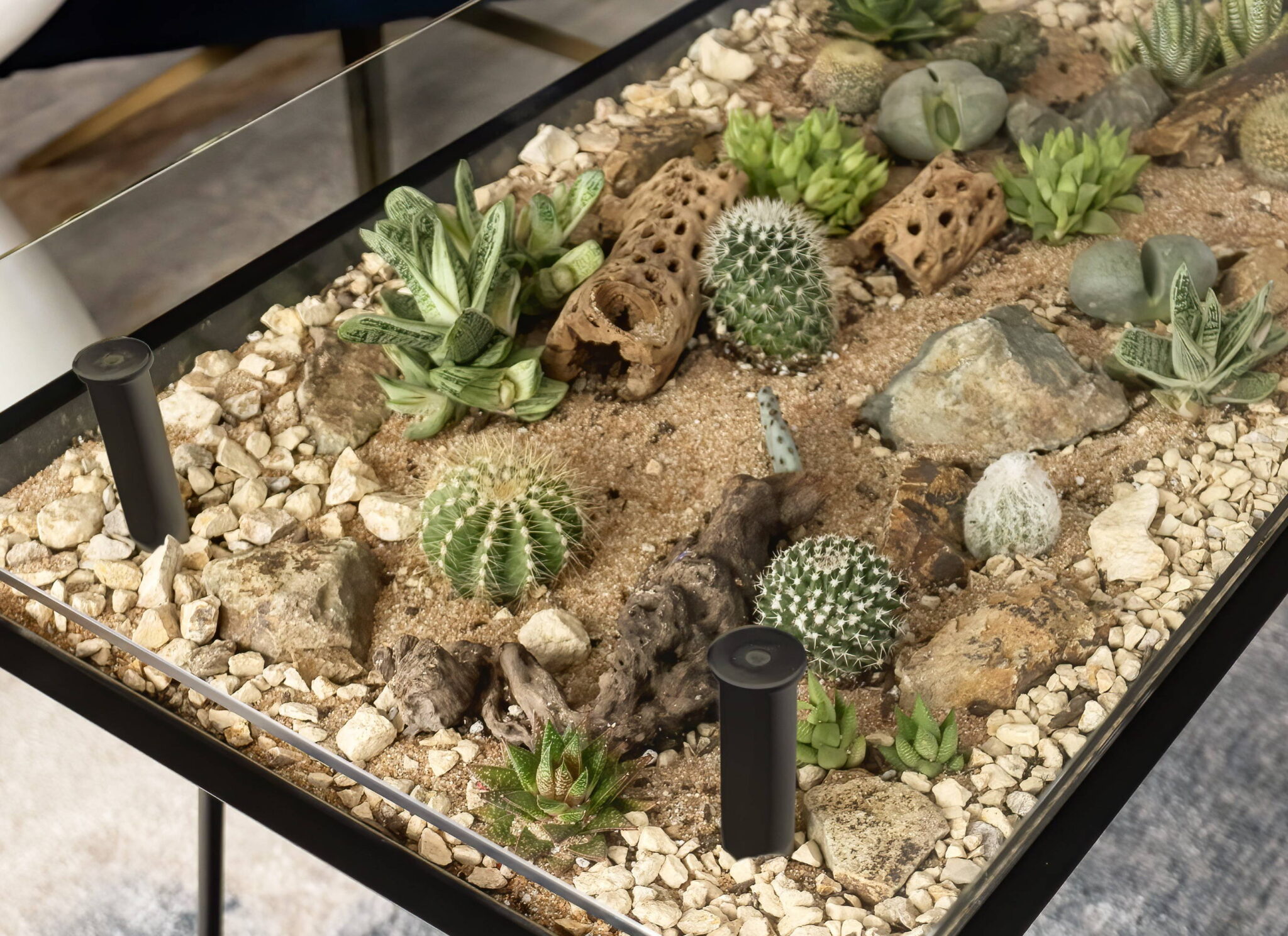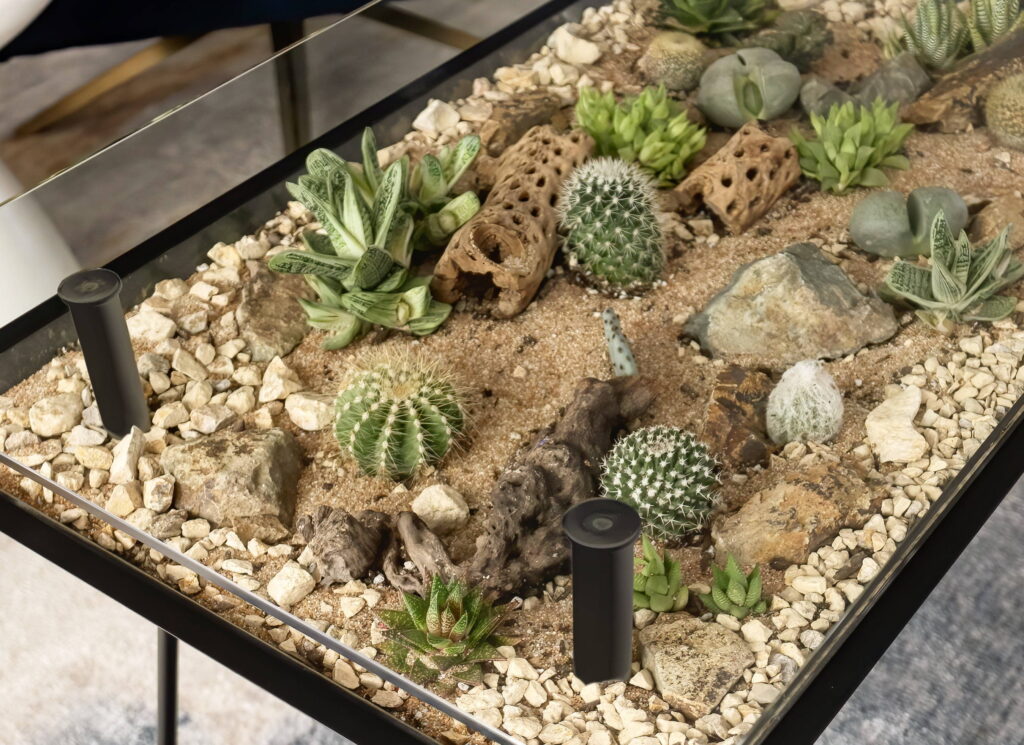 Cacti are technically succulents, but we're listing them separately since you can create a very different aesthetic with a pure cacti table.
Mix your cacti with different materials like stones and driftwood to complement your home's aesthetic.
Trailing Plants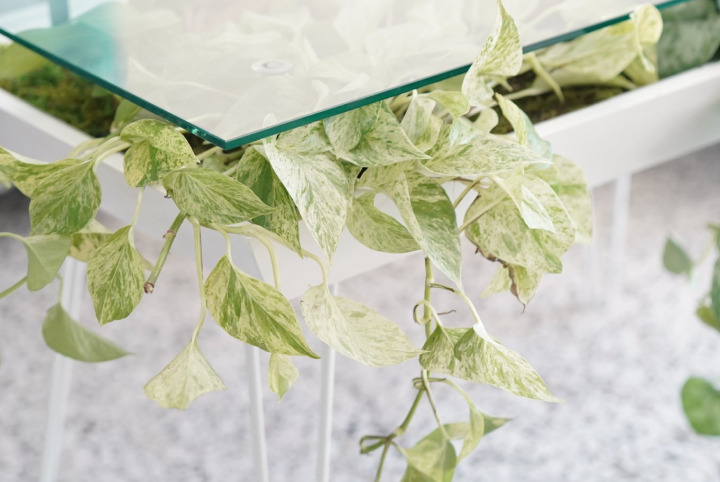 The last type of plant we're going to mention is a trailing plant. Specifically, we love pothos (as pictured above) because of their ease of care and how quickly they grow.
Pothos are particularly satisfying for beginner gardeners because of how quickly they grow and how easy they are to care for.
A trailing plant will quickly spill over the sides of a blooming table, which creates a unique look. However, this is something to consider if you have pets that will view these trailing plants as toys.
Conclusion
Is a Blooming Table right for you? We think that they're an awesome option for those trying to create a unique garden or a garden in a small space.
For your specific budget and home layout, you'll have to weigh the pro's and con's ultimately to decide if it makes sense for your home.