If you don't have the space and patience to grow a beautiful and healthy garden like a pro, then container gardening is for you.
The best thing about this approach to planting is it's so easy to pull off and requires little planning and fewer resources. Whether you prefer florals, herbs, or fruits and veggies, you can be successful in this project.
For your inspiration, we've rounded up beginner-friendly year round container gardening ideas to spruce up your porch and patio in no time.
Year Round Container Gardening Ideas
1. Herby Fully Loaded
The best thing about herbs in containers is they look and smell lovely. If you place them on your patio, anyone who comes to visit your home will be greeted with their refreshing and rejuvenating scent. Plus, you know you always have a few aromatic leaves to grab for your home cooking.
Among the top choices are basil, oregano, lemongrass, thyme, mint, and parsley. For a pretty centerpiece, feel free to combine different herbs in one big container.
It could be a large pot or vase for a rustic tabletop setup, stacked wooden shelves, or in pretty little pails. Of course, mason jars are still popular. If using them, plant one herb in each jar.
2. Soothing Blues
Blue is the color of calmness and serenity. We all need some blue in our yard to counter the stresses that the pandemic has brought us. That said, potted blue plants like Agapanthus are a gorgeous addition to your patio.
Create a stunning contrast by pairing it with hydrangeas in rusted iron planters. It's so beautiful and soothing.
Make sure to choose the sunniest spot possible to encourage more flowers. In addition, this beautiful flowering plant likes to be snug in the pot so it thrives well in closely packed containers close to other plants.
Other great choices are the Heavenly Blue Morning Glory, Clematis, Cornflower, and Delphinium. Delphiniums are great for spicing up your fence in summer but they also do well when placed in medium to large containers.
Combine blues with other vivid colors like red, yellow, and orange for a splash of colors in your yard.
3. Homey, Mini-Garden Vibe
Grouping containers in a tight space is a great way to create a lovely mini garden on your patio. You can always opt for inexpensive plastic containers that are easy to move around.
You can make your cluster of containers look like it's been done by professional landscapers by following a planting theme. For example, you can mix colorful annuals and perennials, a lush arrangement of tropical houseplants, or a monochromatic theme using flowers and foliage.
For the most impact, combine different textures and sizes. You can create a sense of "unity" by using similar types, designs, or colors of containers, or repeating some plants in several of the pots.
Don't forget to vary the heights of your containers. Alternatively, you can stack them on a cinderblock or even on your patio steps for an elevated look.
4. Easy Breezy Floating Plants
If you don't have a ground or floor space for a garden, "hang" on. Your plants don't have to be in the ground to flourish. Whether you're planting herbs, flowers, or vegetables, there's a myriad of ways to hang a plant outdoors.
One is by placing them in woven wicker baskets. It's a natural way to decorate a bare outdoor space and blends beautifully with brick, timber, and even concrete walls. For a splash of colors, squeeze in zinnias and begonias together.
To add more drama, fill the spaces with Blue Cape plumbago, sweet alyssum, Fuschia, or petunia. These colorful blossoms bring joy wherever they are.
Even crops like tomatoes and cucumbers work well in hanging containers. Plant them in buckets or pots attached to your fence. This clever idea works well for people who are short on gardening space.
5. Modern Tabletop Containers
If you're new to gardening, an ingenious and incredibly easy place to start is by using tabletop containers. As the term suggests, you can simply place the pot on your patio table or even inside your home.
To match the modern look of your home, opt for modern containers that feature strong, dark lines and rich metal tones. Such an edgy look will beautifully balance the soft, rippling, and breezy movement of your plants.
So many plants work well in tabletop containers, from pretty succulents to roses, and popular herbs like basil, just make sure to clip often. You can also group several pots on a table. In this case, choose one large plant as the focal point. Then, surround it with smaller plants.
6. Overflowing Rustic Freestanding Containers
You'll need a sturdy container for this gardening idea, such as a galvanized metal washtub or an old wheelbarrow.
After choosing the perfect rustic container, fill it with a hearty and colorful mix of florals, hydrangea, Nemesia, roses, pansies and violas, Coleus, and anything that suits your fancy. For an overflowing natural beauty, add some gorgeous flowering vines like sweetpea, Virginia Creeper, or Mandevilla.
You can also experiment with other freestanding containers, such as concrete and granite orbs where you can plant ornamental kales and big-leaf tropical plants. Or if you want it dreamy and romantic, make your arrangement in a classic cast-metal urn styled with classic Victorian lines.
7. Beauties on Shelves
A tiered shelving structure is a great way to show off your container gardening masterpieces all year round. The best thing is you can place it in the most unused spot or corner in your yard or outdoor space.
The likes of sage, pansies, and ferns are excellent choices and are perfect for autumn displays. You can mix it up as seasons change. Think bulbs in spring or bedding plants in summer.
For a cohesive look, use matching pots. Terracotta is a timeless choice. However, don't be afraid to get more creative by mixing colors, sizes, and textures to match your taste.
You can also create a ladder garden using old wood that adds a shabby-chic charm to your yard or garden. It's the perfect spot for displaying small pots of herbs and trays of flowers.
8. Cottage Garden in Plots
A cottage garden is a distinct style that uses dense plantings, informal designs, and a mixture of ornamental and edible plants. If you're dreaming of creating one but you don't have enough outdoor space, don't fret.
With containers and a little creativity, your dream cottage garden is just a few pots away. You can use rustic stone or faux stone containers, as well as old buckets, watering cans, galvanized washbasins, and even simple ceramic pots.
Using a variety of containers will contribute to the lush look of your cottage garden. Don't forget to cram containers with blooms and foliage. Keep in mind the wild and unruly look is the charm of a cottage garden.
Some perfect plants for full and wild arrangements include licorice plants, verbenas, and petunias. If you still have extra space, add some more rambling and climbing vines like sweet peas, climbing roses, and morning glories. Use trellises or supports to encourage them to thrive in pots.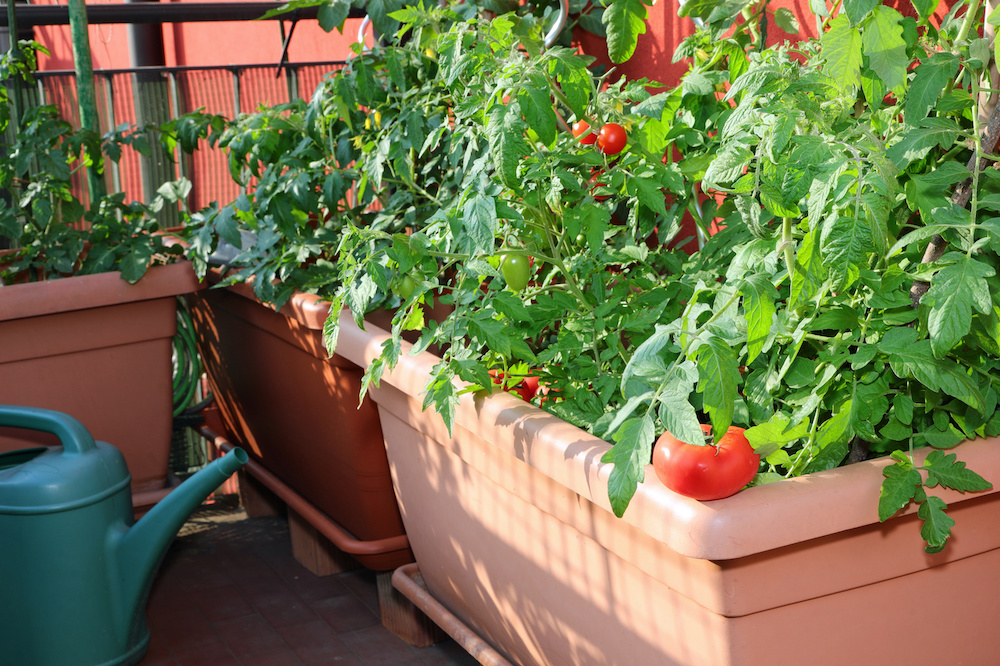 9. Enchanting Patio-Sized Orchard
What if you can grow fruits in a small garden? While apple trees are instantly associated with orchard culture, citruses, nuts, and berrying shrubs can also be grown in an orchard.
Dwarf orange trees grown in containers can take up very little space and produce an awful lot of fresh, yummy fruits. Many other fruit trees these days are grafted onto special dwarfing rootstocks that make them easier to grow in smaller spaces.
You'll also find several tasty varieties of apple trees that perform great in containers, along with peach and apricot trees. These trees yield fruits very quickly, usually within one or two years of planting.
Just make sure to select the right containers that are sturdy enough to support the trees. Examples are terracotta and glazed pots.
Additionally, all restricted trees can easily become stressed so they need to be given more care than those that grow on their own.
10. Tropical Lush in Containers
Tropical plants are known for their vibrant hues and unique textures. What's more, they can be brought inside during the winter.
The tubers of dahlias, sweet potato vines, and cannas can be stored indoors in a cool, dry place until spring when they can liven up your outdoor area. Make sure to choose the best pot for your container garden.
Find a pot that picks up the accent colors of your tropical foliage or one that offers a neutral background. Some excellent picks to plant in containers are tall papyrus, bird of paradise, Cordyline, Croton, and Begonias.
11. Nostalgic Window Boxes
What could be a better way to brighten a shady spot than to add beautiful window boxes with unique arrangements? If you love flowers, a window box is a perfect place to display them.
They are so simple to do but are an extremely effective way to add visual interest to your home. Plus, you can enjoy their beauty both outdoors and from inside your home.
When considering window box ideas, the key is to choose flowers suitable for the growing conditions around your window. For example, if your window gets high doses of sunshine in the afternoon, choose plants that love lots of light.
Feel free to cramp different varieties and colors of florals. The lush window box includes "million bells", vinca, asparagus fern, coleus, and sunny daffodils.
Even so, you can always choose herbs instead of florals. Rosemary, basil, lemongrass, and many other herbal plants make perfect choices for window boxes too. Plus, their invigorating aroma will surely fill your living space.
12. Season to Season Garden Containers
One of the challenges with container gardening has something to do with retaining their visual beauty through changing seasons. In such a case, evergreens and annuals are your best friends.
These plants are the perfect year round container gardening ideas. Think of them as a "keeper" or a durable plant that will thrive throughout the year.
They are best paired in plants that require more attention. For example, you can partner colorful annuals such as Verbena, Scaevola, and Sweet Potato vine with seasonal foliage. Marigolds, geraniums, Zinnias, and Ageratum work wonders too.
13. Mixed Succulents
If you live in a hot and dry climate, heat-tolerant succulents are the way to go. They are so pretty and require very little maintenance. Plus, they can be kept indoors too.
There are so many varieties of succulents. Look for types that create visual interest as they grow.
If you want it a little fancier, pick colorful rosette succulents. They are a sure-fire way to make an appealing centerpiece for your patio or living room.
To ensure that they grow and thrive well, use pots made from terracotta or ceramic. Both of these pots are breathable, which encourages water drainage and airflow.
Conclusion
As more people are living in cities with smaller lots or apartments, container gardening has become immensely popular. If you're looking to add greens and colors to your outdoor or indoor space, container plants are the way to go.
We hope these year round container gardening ideas have inspired you to start your DIY project soon.