Before we jump into this post, we want to note that we are an affiliate partner for Garden tower project. Rest assured at Fig and Spruce we don't promote anything that we aren't in love with, but we will make a small commission off any purchases made through links in this article. Thanks!
At Fig & Spruce, we love products that help us garden in small spaces. Even using plant stands and shelves, it can be difficult in an apartment or rented area to find enough room for more than a few plants. Never mind finding enough room to produce food to feed a family.
One of our favorite ways to grow a lot of food in a tiny space is by using a stackable system like the Garden Tower Project offers. Their newest product, which is the Garden Tower 2, makes it possible to grow a large amount of food in just a 4 square foot space.
The Garden Tower 2 is a rotating tower of planters that you can plant up to 50 different plants in. It allows you to plant a large number of plants in a small 4 square foot area.
The Garden Tower 2 is super compact, while allowing you to grow a ton of plants in a super small space.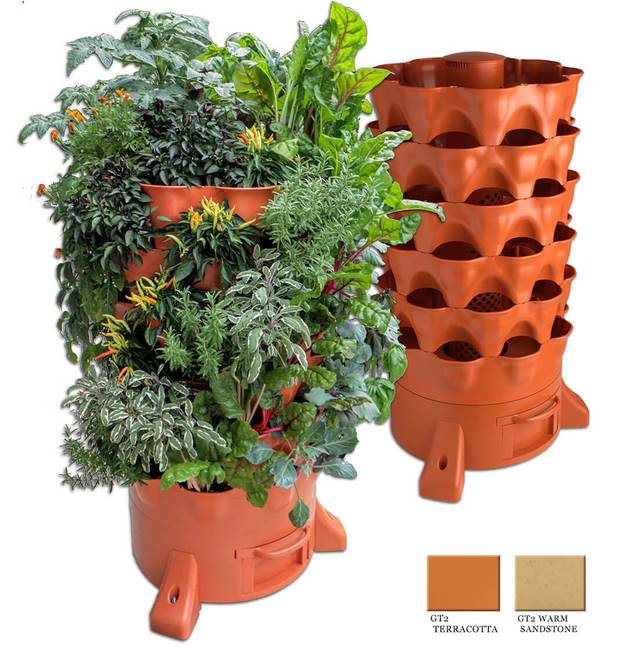 How the Garden Tower 2 Works
The Garden Town 2 is made up of stackable trays that have 50 spots that you can fill with different plants. To set it up, you stack the different layers, place the unit where you'd like, and then fill with soil.
From there you can plant your seeds and water as you normally would.
What sets the Garden Tower 2 apart from other comparable models is that it also has a composting chamber in the middle of the tower. This chamber is built for vermicomposting, which in short is composting using worms.
The composting chamber is designed so that your plants can actually draw nutrients directly from the compost. After setting your Garden Tower 2 up, place the worms in the soil. Then, as you gather kitchen scraps, just place them in the center compost chamber and the worms will do all the work.
As your plants grow and extend their roots, they'll be able to pull nutrients from the composting chamber. Additionally, at the bottom of your tower there's a removable tray that will gather the finished compost and compost tea for you to use in future gardening projects. Over the course of 9 months, the Garden Tower 2 can recycle more than 50 pounds of organic kitchen scraps.
Pros of the Garden Tower 2
So, as you may know, the Garden Tower 2 is a premium product, and has a higher price tag than some of its competitors. The starting kit totals up to $359 which will include everything to set up the garden tower 2 kit (aside from soil and plants).
This is higher than its competitors, but the Garden Tower 2 has several features that set it apart from other models.
Composting Built In
As we mentioned earlier in this article, the Garden Tower 2 has a built in composting chamber to feed both the plants that you're growing in your tower and create compost material for future use.
Food Grade Plastic
The Garden Tower 2 is made from food-grade plastic. It's components are made of non-toxic, BPA & PVC free plastic.
Backed by a 5 year Manufacturer Warranty
Each garden tower 2 unit comes with a 5 year manufacturer warranty, so if you have any issues with it you can reach out to customer service through Garden Tower Project to get it fixed or replaced.
Cons
More expensive than competitors
The main con is that the garden tower 2 has a much higher price tag than some of its competitors. If you're looking for a premium product to grow a lot of vegetables in a small space, the garden tower 2 is one of the top options.
However, if you're looking for something at a lower budget, there are other options such as this one from Amazon.
Heavy Once Filled with Soil
Another thing to keep in mind is that once this unit is filled with soil or plants, its very heavy and hard to move. This makes it less mobile than simply keeping your pots in plants.
Do you use the garden tower 2? Let us know in the comments below!